Masochist: "Hurt me! Beat me ! Torture me! Kick me!"
Sadist: "No."
Masochist: "Thank you."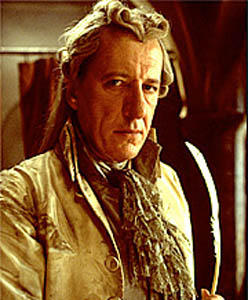 To some, he's just a name, a phrase, a boogie man. Very few really know his work or his philosophy. But if there's one man who expresses the heart, the soul, the meme of our culture, it can only be . . . the Marquis deSade.
Yes, Donatien Alphonse François, Marquis de Sade the terrible, scandalizing  frenchman whose name (along with the lesser known Leopold von Sacher-Masoch) has been attached to what many consider the most horrible sexual perversions possible. The man who taught about those who inflict pain and those who desire pain . . . both for pleasure. A man who's image should be spangled in red, white and blue, because is there anything more American than sado-masochism: enjoying  the application and reception of violence and pain ?
No ! Of course not. We are the nation, the culture founded on the infliction of pain. The Indians, the Africans, the Chinese, the slaves, the Irish, women, you name them  and we've beat up on them. Our hero is the cowboy who, when not practicing bondage and branding-play with cows, was busy shooting people and taking their land, sending them off to either the happy-hunting grounds or a nomadic life of starvation and slow death. Kind of exciting to just think about it, huh?
Want to upset an average American ? Just tell s/he can't hit  his/her  kids with a fist, belt or wooden spoon. Where would our popular mainstream entertainment be without fistfights, kung-fu battles, gun blasts and various sorts of bondage ? Even our most intellectual types, our geeks and nerds, got to have their sci-fi peppered with blood and guts, whips and chains . . .  and punching.
Now don't confuse this with the sexual practice of S&M, which is what Dan Savage called "adults playing cowboys and Indians with their pants off" and is more like amateur theater than anything else. It does involve the application of pain, violence and control for the pleasure of all participants, but it is also controlled, consensual and planned.
The stuff I'm talking about is the heart and soul of America: big muscular wo/men (or corporations/armies/police forces) flexing our muscles against the people who piss us off, threaten us or are simply between us and something we want. And don't think you can avoid this with your anti-American "pacifism" or "passive resistance." Look what happened to the OWS folks when they tried that Ghandi crap; they got pepper-sprayed like a boss. We're talking real American butt-kicking, not that respectful consensual garbage.
But, you may ask, we can see the love of pain-giving (100+ channels, 24-hours a day). But what about the pain-enjoying ? How American is masochism ? Hey, this country was founded by Puritans, of whom H.L. Mencken said: "Puritanism: The haunting fear that someone, somewhere, may be happy." Our roots are in a deep distrust of pleasure (at least publicly). The early colonists spent many an hour contemplating a God who spent His time dangling them over a pit of flames. And loving it.
Every one of the mainstream religions has a long list of things you can't/shouldn't do, no matter how badly you want to do it (and it doesn't  matter how many want to do . . . whatever. It's just a sign of how "fallen", "rotten" or "decadent" they all are). And these are the popular religions. Must be a great hunger for self-denial out there. And if you want to get serious about it, there's all sorts of disciplines from fasting to celibacy to sleep-deprivation to self-flagellation which people aren't being forced to do, but WANT to do.
Not to mention the way we go running to the nearest church, synagogue, ashram, mosque, etc. to beg God's forgiveness after every earthquake, storm flood or other . . . Act of God. Like the abused child begging for the abusers love. Wow.
But it's not just the religious types. Our TV and movies and advertising hold up a model of the human body which it is simply impossible for the average person to reach, yet tell us to achieve it. Like Sisyphus, we keep rolling that boulder up that hill and watching it roll back down, but we won't stop. Diet, exercise, bulimia, drugs, tummy-tucks, facial surgery (which I heard one expert describe the immediate effects of as "similar to being in a car crash and having your face go through the windshield"), self-flagellation (oops, wrong list), stomach-stapling, you name it. I remember walking into a professor's office once and hearing her discussing jogging with a student. They discussed the pain, shin splints, broken toes, etc. It sounded like Simon Stylites discussing asceticism with Vardhaman Mahavira.
We love to hurt and/or be hurt. We love violence. We won't admit it, because it's not who we're supposed to be, but look at the world we've built .. As though there wasn't enough pain built into life, we want more. We want to give it and receive it; we clutch it to our bosoms and feel the blood (ours or someone else's) flow over our hands.
It hurts so good.